Chocolate Lovers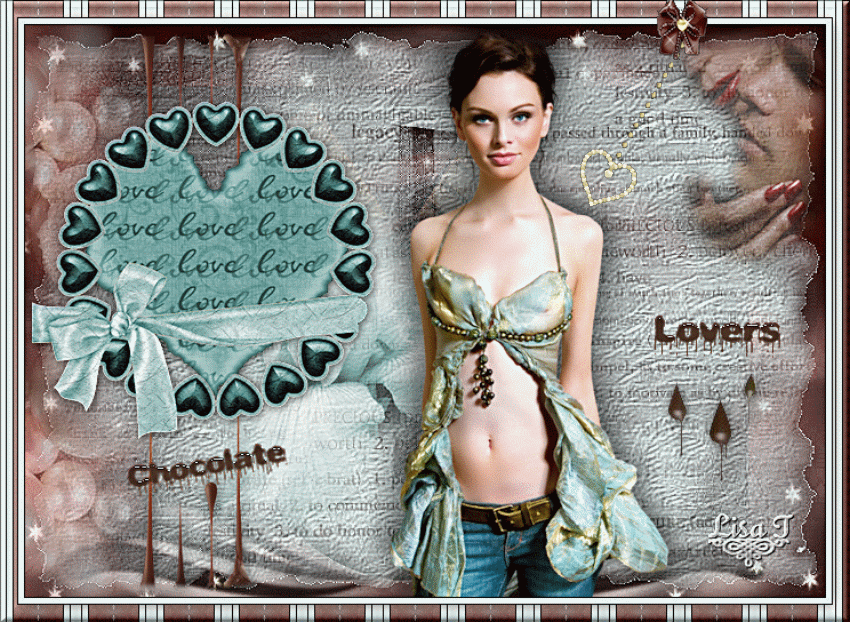 you wil find the orignal tutorial here




This tutorial is a personal creation.
Virginia works with PSP12
I work with PSP18
but you can follow this tutorial with any other version of PSP



Any resemblance with another one would be pure coincidence.
It is stricly forbidden to modify images, to change their name or take off the matermarks,
To present them on your sites or blog,
To share them in groups,
to make a bank of images, or to use them on lucrative purposes.



Thank you to respect Virginia' work and the tubers work.
Don't hesitate to warn her if you have any trouble with this tutorial.
some tubes were received in sharing groups
if one of them is yours, or not copyright free, please let Virginia know
and a link to your site will be added
either she will delete it from the material provided if you prefer




Material
Tubes – Decoration tubes de– Mask – texture – Font – animated file
Place the texture « driftwood.bmp » in the special folder « Textures » of My PSP Files
Tubes
Jet – from the group « Top Designs »
La Manouche
Scrap elements
scraps elements were taken in the kit « I love chocolate » by Marie (her blog does not exist anymore)
and in the kit « Vix_ChoccyScrapkit_April08 » by Vix




Filters used
to download the filters, click on the banner below
Thank you very much to Janaly and Gigi for their kind permission



If you don't know how to install filters into Unlimited 2, just click on the link below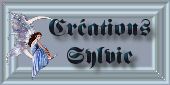 * Crescent Moon (Terracotta)
* Alien Skin - Eye Candy 5 Impact
* Eye candy 4 000
* Filters Unlimited



Colors used
Virginia uses these colors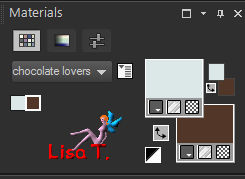 color 1 -> FG color -> #dbe8e7
color 2 -> BG color -> #52382a
if you use other tubes and want to colorize them, use the FG color values (Hue and Saturation)
Don't hesitate to change the colors and the blend mode of the layers, and the shadows,
according to your tubes and images.



Important
Open all images in PSP, duplicate them and close the originals. (shift + key D)
always work with the copies
some tubes provided are not « visible » (in order to reduce the weight of the material file)
click on visibility toggle of the layer to make it visible again
open the masks, and minimize them to tray
copy/paste selections into the special folder « selections » of « My PSP Files »



use the pencil to follow the steps
left click to grab it



prepare your material
Realization
Step 1
open a new transparent raster layer 700 * 500 pixels
selections/select all
copy/paste into selection the image «chocolate-bkg.jpg »
selections/select none
adjust/sharpness/sharpen
note
if you want to colorize the image but don't wish to change the colors too much,
use the plugin Adjust/Variations
check the box « midtones » and find your settings
Step 2
copy/paste as new layer the tube « choco_lovers_frame_vir.pspimage »
layers/merge/merge visible
Step 3
layers/new raster layer
flood fill with the FG color
layers/new mask layer/from image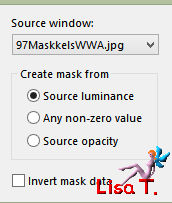 layers/merge/merge group
effects/3D effects/drop shadow/ 1 / 0 / 40 / 10 / black
effects/texture effects/texture/find the texture « driftwood.bmp »/color white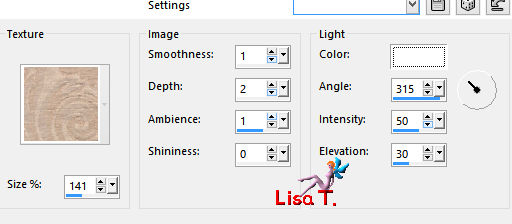 adjust/sharpness/sharpen
layers/merge/merge down
adjust/sharpness/sharpen
your work looks like this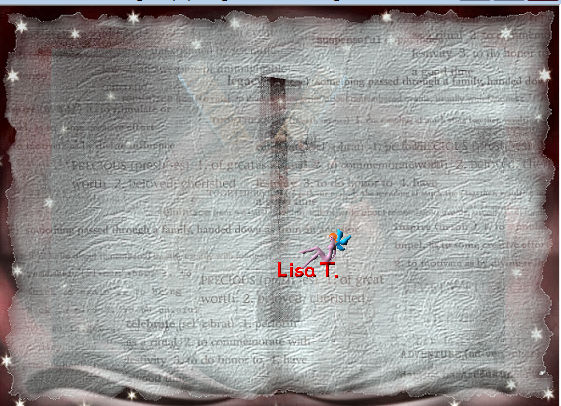 Step 4
copy/paste as new layer the tube «pearls01_vir.pspimage »
place it top left (see final result)
layers/merge/merge down
your work looks like this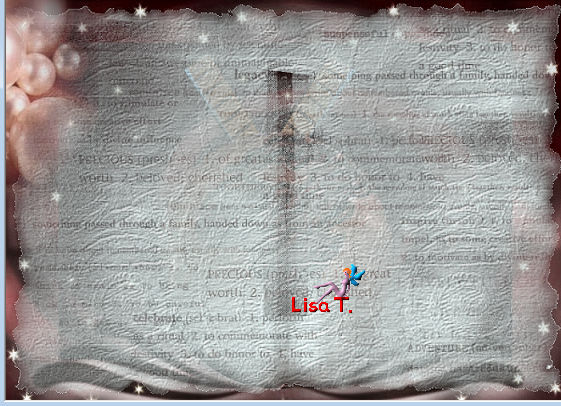 layers/duplicate – image/mirror/mirror vertical
layers/merge/merge down
adjust/sharpness/sharpen
lower the opacity : 60%
note
if you changed the colors, don't lower the opacity, just set the blend mode on « soft light »
layers/merge/merge visible
your work looks like this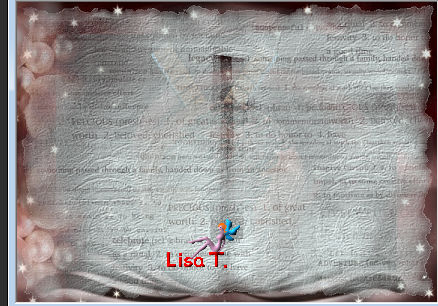 Step 5
activate the tube « CHOC HEART FRAME 2 BY FG.pspimage »
make sure you work with a copy -> window/duplicate
delete the layer of the watermark
selections/select all – selections/float – selections/defloat
adjsut/hue and saturation/colorize
use the H and S values of your FG color
Virginia chose : H : 125 / S : 56
effects/plugins/Unlimited 2/Paper Textures/Japanese Paper/default settings
selections/select none
Step 6
activate the magic wand tool / tolerance 0 / feather 1 /mode « add »



click into the transparent 2 parts to select the inside of the frame
selections/modify/expand 2 pixels
layers/new raster layer
copy/paste into selection the tube « Vix_ChoccyHeart.png »
selections/select none
adjust/hue and saturation/colorize as before
layers/arrange/move down
your frame looks like this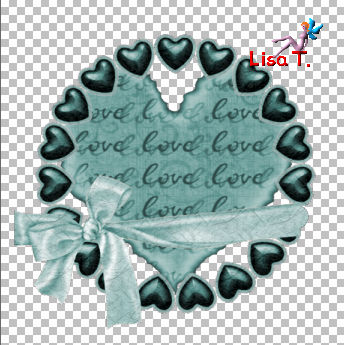 layers/merge/merge visible
edit/COPY
Step 7
back to your work
edit/paste as new layer
image/resize/uncheck « resize all layers »/60%
adjust/sharpness/sharpen
place it on the left of your tag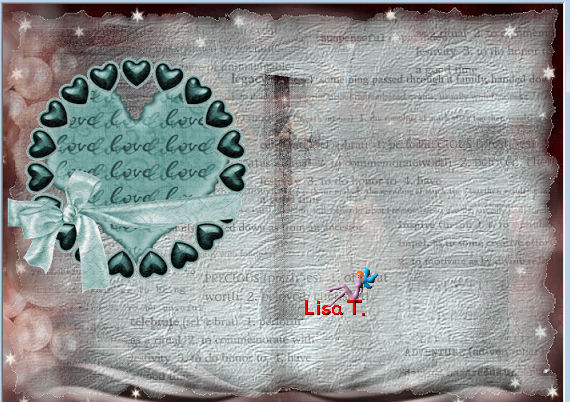 effects/3D effects/drop shadow/ 1 / 1 / 60 / 10 / black
Step 8
copy/paste as new layer the tube « choc_dropping.psp »
move it as shown below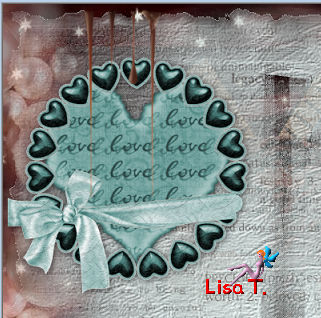 layers/duplicate – image/mirror/mirror vertical
layers/merge/merge down
layers/arrange/move down
effects/3D effects/drop shadow/ 0 / 1 / 60 / 15 / black
Step 9
activate the top layer
copy/paste as new layer the tube « tailouana_fleurs148.pspimage »
image/resize/uncheck « all layers »/80%
image/mirror/mirror horizontal
ove it like this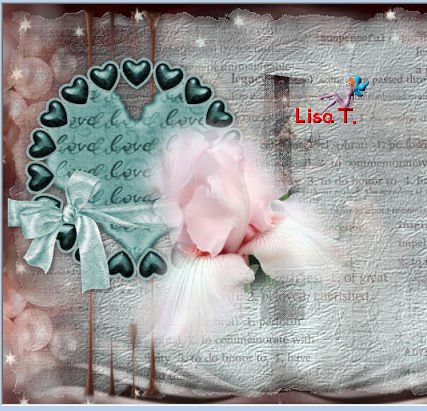 adjust/hue and saturation/colorize as before
opacity of the layer : 73%
layers/arrange/move down TWICE
Step 10
activate the top layer
copy/paste as new layer the tube « tenderness.psp » (couple)
image/resize/50% - image/resize/80%
move it as shown below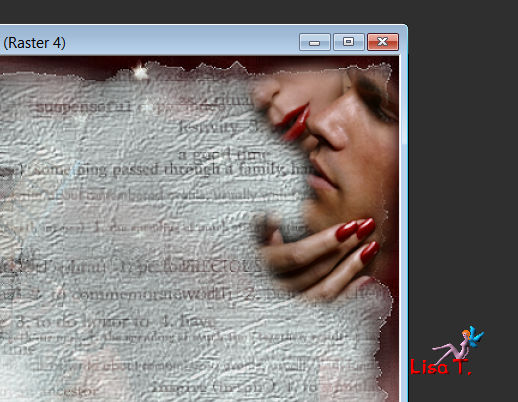 opacity of the layer : 63%
effects/3D effects/drop shadow/ 1 / 1 / 40 / 10 / black
layers/merge/merge visible
Step 11
copy/paste as new layer the tube « jet-woman13-april-2008.pspimage » (woman)
image/resize/500 pixels height
move it like this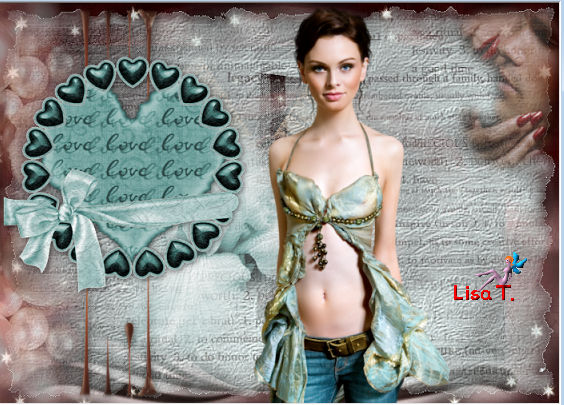 effects/3D effects/drop shadow/ - 10 / - 12 / 40 / 30 / black *** - 4 / 8 / 50 / 30 / black
Step 12
in the layers palette, close the FG


Text tool – font « Plasma Drip_BRK.ttf » (or another one of your choice)



write the word « Chocolate »
layers/convert to raster layer
move the text to the left, under the frame with the hearts
image/free rotate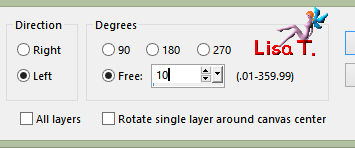 selections/select all – selections/float – selections/defloat
effects/pluygins/Alien Skin Eye Candy 5 – Impact/Glass
settings tab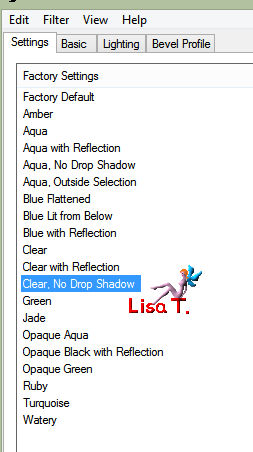 Basic tab/color #c0c0c0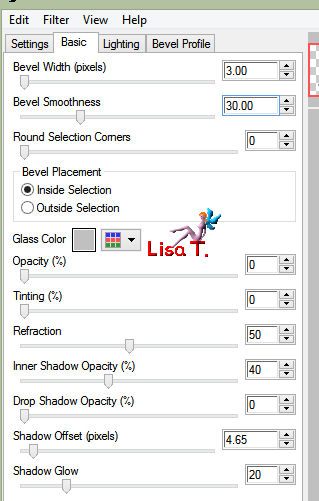 selections/select none
adjust/sharpness/sharpen TWICE
Step 13
text tool – size 34 – write the word « Lovers »
layers/convert to raster layer – place it like this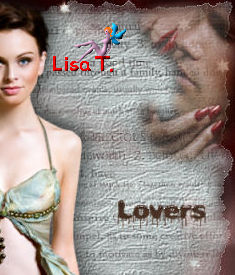 selections/select all – selections/float – selections/defloat
effects/plugins/Alien Skin Eye Candy 5-Impact/Glass/same settings as before
selections/select none
adjuxt/sharpness/sharpen
your work looks like this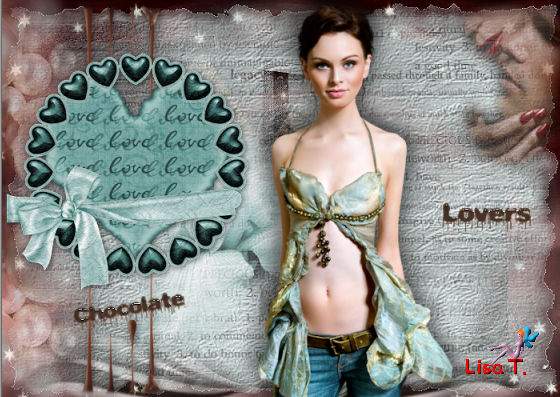 apply your watermark
laeyrs/merge/merge all (flatten)
Step 14
image/add borders/check « symmetric » -->
1 pixel black
5 pixels FG color
1 pixel black
15 pixels FG color
select the large border with the magic wand tool (feather 0)
effects/plugins/Creescent Moon/Terracotta/ 22 / 93 / 145 / 23
note
this plugin might give you a different result according to the place where the tubes are
adjust the result by changing the value of the last line « Vertical source »
effects/plugins/Unlimited 2/Buttons&Frames/3D GlassFrame 1/ 28 / 100
selections/invert
effects/3D effects/drop shdow/ 2 / 1 / 50 / 20 / black
selections/select none
Step 15
activate the tube « chocolate_drops.pspimage »
effects/plugins/Adjust/Variations/check « Midtone »
click once on « original » and twice on « Lighter »
edit/copy
back to your work
paste as new layer
place under the word « Lovers » (see final result)
Step 16
your tag is finished
if you don't want to animate it, save as... type jpeg
Animation
Step 17
make sure the top layer is the active layer (chocolate drops)
selections/select all – selections/float – selections/defloat
effects/plugins/Eye Candy 4000/Drip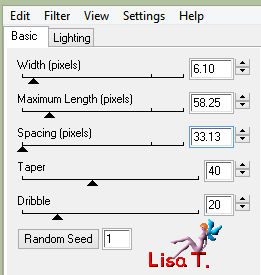 selections/select none
effects/3D effects/drop shadow/ 0 / 1 / 50 / 10 / black
edit/copy special/copy merged
Step 18
open Animation Shop (AS)
edit/paste as new animation
Step 19
back to PSP
undo the last three actions
make sure the active layer is the layer with the chocolate drops
effects/plugins/Eye Candy 4000/Drip -->
6.85 / 68.25 / 10 / 40 / 20 / Random Seed : 1
selections/select none
effects/3D effects/drop shadow as before
edit/copy special/copy merged
in AS
edit/paste after current frame
Step 20
back to PSP
undo the last three actions
make sure the active layer is the layer with the chocolate drops
effects/plugins/Eye Candy 4000/Drip -->
3.05 / 68.25 / 17.10 / 40 / 20 / Random Seed : 1
selections/select none
effects/3D effects/drop shadow as before
edit/copy special/copy merged
in AS
edit/paste after current frame
Step 21
back to PSP
undo the last three actions
make sure the active layer is the layer with the chocolate drops
effects/plugins/Eye Candy 4000/Drip -->
3.37 / 55.26 / 10 / 40 / 20 / Random Seed : 1
selections/select none
effects/3D effects/drop shadow as before
edit/copy special/copy merged
in AS
edit/paste after current frame
edit/select all
Step 22
open the animation « Choco.gif »
edit/select all
animation/resize the animation to 90% (check « percent » – type bicubic)
edit/copy
back to your tag – make sure you are in the first image of the animation
edit/paste in the current frame
the animation seems to hang at the end of the cursor of your mouse
click on the place you want to see the animation
view your animation
if you are not satisfied, click on « undo » and place your animation elswhere
animation/properties of the image/speed : 40
file/save as... type . GIF
note of the translator
my animation was realized with Ulead Gif Animator



Don't hesitate to write to Virginia if you have any trouble with her tutorial




My tag with my tubes - jpeg version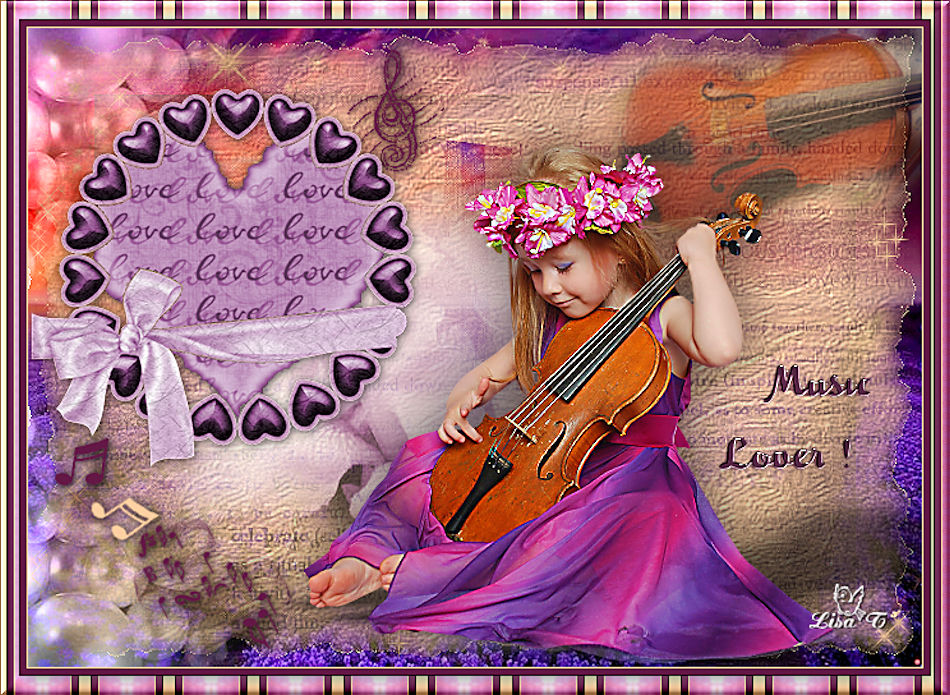 and the animated version


Back to the board of Virginia's tutorials