Tutorial 46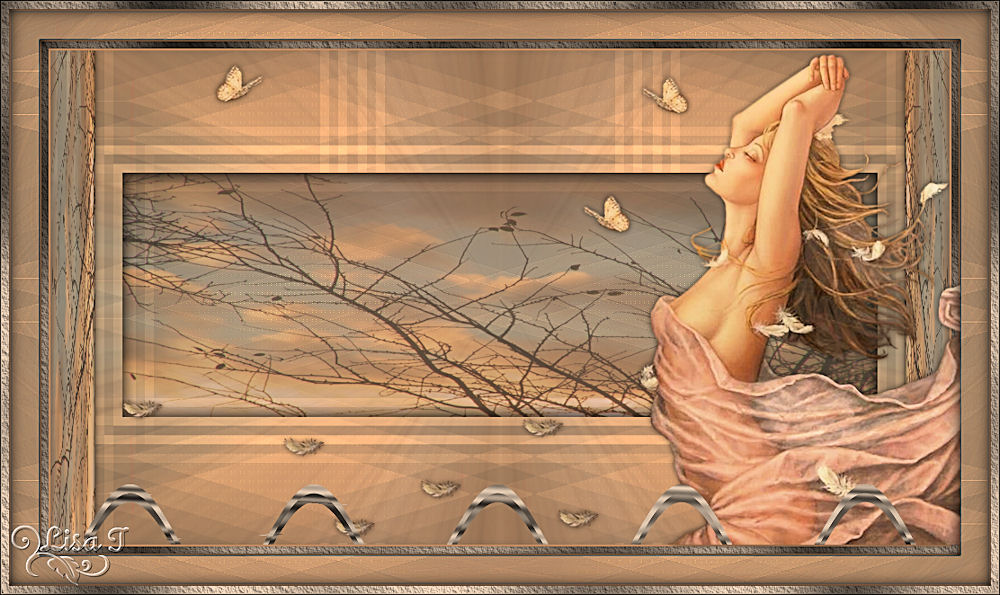 You will find the original tutorial Here



Sweety received the permission of the tubers to use their tubes.
You can find the banners of these tubers in the left column of her blog, under the heading "autorisations"



some of the tubes Sweety uses were received in sharing groups
or found on the web
if one of them is your property, please let us know
a link to your site will be added
they are provided as « single-use » for this tutorial
you are not allowed to share or used them for another purpose.
This tutorial is a personal creation,
any resemblance with another one would be pure coincidence
you are not allowed to share it or present it on your site, blog or forum
without the permission of Sweety



Thank you to the tubers for their great job
they make our creations possible



note of the translator : This translation is my property,
it is strictly forbidden to copy or distribute it on the Net
Thanks to Sweety for her kind permission
I work with PSP12, but it is possible to use another version.



have fun



Material
1 image (google image) landscape
1 character's tube by Odette (not provided)
1 decoration tubes by Sweety
2 selections
Open the tubes, duplicate them and work with the copies
copy the selections and paste them into the folder « Selections » of « My PSP Files »




Filters
Simple/4 Way Average
AP 01[Innovations]/Lines Silverlining
Toadies/What Are you ?..
Mura Pro/ Seamless
Graphic Plus/Cross Shadow
AAA Frames/Texture Frame



Thank you to Tine for her permission to use her filters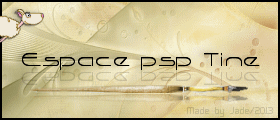 Colors
foreground color -> color 1 -> #d39667
background color -> color 2 -> #958575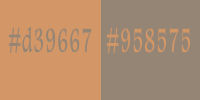 Use the pencil to follow the steps
left click to grab it



Note
you will need about 1 hour/one hour and 1/4, to realise this tag
+ Time to choose your tubes

Realization
Step1
open a new transparent raster layer 900 *550 pixels
in the materials palette, prepare a linear gradient / 45 / 1 / check « invert »


fille the layer with the gradient
layers/new raster layer
selections/select all
activate the image of the landscape
edit/copy - back to your work - edit/paste into selection
selections/select none
Step 2
adjust/blur/radial blur/ 90 / 0 / 0 / 0



layers/duplicate - image/mirror - image/flip
opacity on 50%
layers/merge/merge down twice
effects/plugins/Simple/4 Way Average
Step 3
selections/load selection from disk/selection 1
selections/promote selection to layer
selections/select none
effects/plugins/AP 01[Innovations]/Lines Silverlining/Dotty Grid
adapt the color settings according to your own colors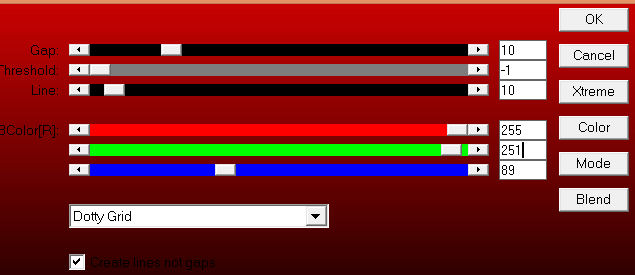 Step 4
effects/image effects/seamless tiling/ -1 / 100 / 94


blend mode : normal - opacity : 50%
selections/load selection from disk/selection 2
hit the delete key of your keyboard
selections/select none
Step 5
effects/plugins/Toadies/What Are You ?../default settings/ 20 / 20
layers/duplicate
blend mode : normal / opacity : 50%
effects/image effects/offset/ H : 0 / V : 200 / check « custom » and « transparent »
layers/duplicate - image/flip/opacity : 50% / blend mode : normal
layers/merge/merge down twice
blend mode : dodge (or other)
Step 6
layers/new raster layer
selection tool/custom selection/ top : 106 / left : 0 / bottom : 438 / right : 900
activate the flood fill tool, opacity set on 50%, and fill the selection with color 2
selections/modify/contract/10 pixels
hit the delete key of your keyboard
selections/modify/contract/10 pixels
fill the selection with color 2 (opacity still on 50%)
selections/modify/contract/10 pixels
hit the delete key of your keyboard
selections/select none
blend mode : dodge / opacity : 60%
don't forget to reset the opacity of the flood fill tool on 100%
Step 7
activate the selection tool/custom selection
top : 136 / left : 30 / bottom : 408 / right : 870
layers/new raster layer
activate the landscape
edit/copy - back to your work - edit/paste into selection
opacity : 50%
layers/new raster layer
effects/3D effects/cutout/ 0 / 0 / 100 / 25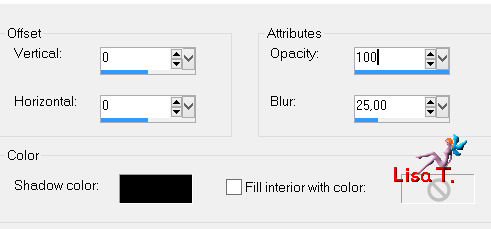 selections/select none
layers/merge/merge down
layers/arrange/move down
Step 8
your layers palette, and you tag look like this



activate the top layer (Raster 2)
layers/duplicate
effects/plugins/Toadies/What Are You ?../default settings/ 20 / 20
layers/arrange/move down
activate the second layer from the bottom (Promoted selection)
selection tool/rectangle/custom selection
top : 136 / left : 30 / right : 408 / right : 870
effects/edge effects/enhance
selections/select none
Step 9
in the layers palette, activate the bottom layer (Raster 1)
edit/copy - edit/paste as new image, and set aside for later use
back to your work
image/canvas size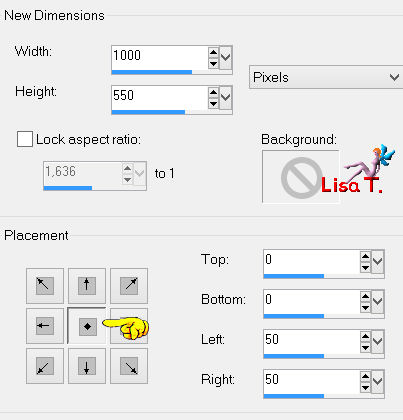 in the layers palette, activate the second layer from the top (Copy of raster 2)
layers/duplicate
image/free rotate



effects/image effects/offset/ H : -315 / V : 0 / check « custom » and « transparent »
layers/duplicate - image/mirror
Step 10
in the layers palette, activate the tube of the landscape (Raster 3)
layers/duplicate
image/free rotate as in step 9
effects/image effects/offset/ H : -400 / V : 0 /check « custom » and « transparent »
view/rulers / activate the Pick tool (K)
place the pointer on the center handle and tighten left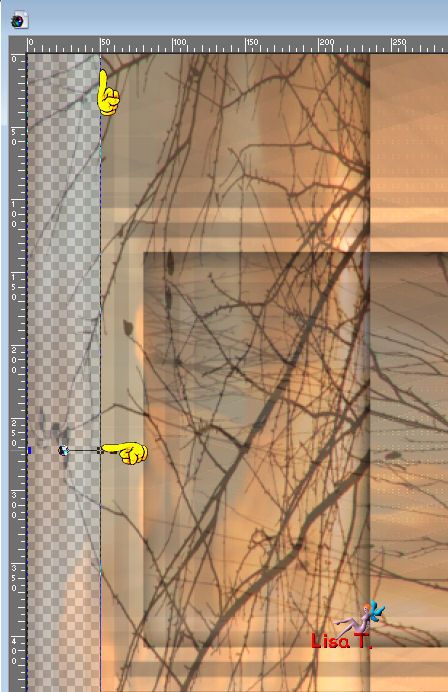 disable the rulers and the tool (M)
layers/duplicate - image/mirror
Step 11
your layers palette and your tag look like this



activate the bottom layer (Raster 1)
layers/new raster layer
selections/select all
activate the image set aside on step 9
edit/copy - back to your work - edit/paste into selection
layers/arrange/move/send to bottom
selections/select none
Step 12
activate the layer above (Raster 1)
activate the selection tool/rectangle/custom selection
top : 0 / left : 50 / bottom : 550 / right : 950
selections/invert
effects/3De ffects/drop shadow/ 0 / 0 / 60 / 10 / black
selections/select none
your layers palette looks like this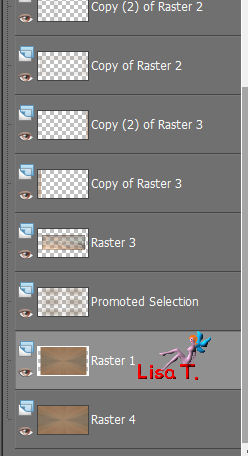 Step 13
activate the second layer from the top (copy 3 of raster 2)
activate the selection tool/rectangle/custom selection
top : 136 / left : 80 / bottom : 408 / right : 920
hit the delete key of your keyboard, keep the selection active
activate the layer just below and hit the delete key of your keyboard
selections/select none, keep this layer active
activate the selection tool/rectangle/custom selection
top : 406 / left : 80 / bottom : 548 / right : 916
hit the delete key of your keyboard, keep the selection active
activate the layer just above
hit the delete key of your keyboard
selections/select none
Step 14
image/add borders/2 pixels color 1
edit/copy - edit/paste as new image and set aside for later use
back to your work
selections/select all
image/add border/10 pixels color 2
selections/invert
effects/plugins/Graphic Plus/Cross Shadow/ 150 / 50 / 50 / 50 / 50 / 50 / 100 / 128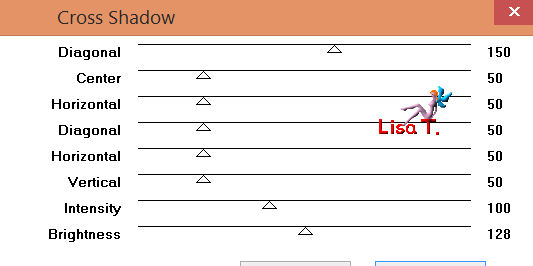 effects/plugins/AAA Frames/Texture Frame/ 10 / 0 / 0 / 1 / 100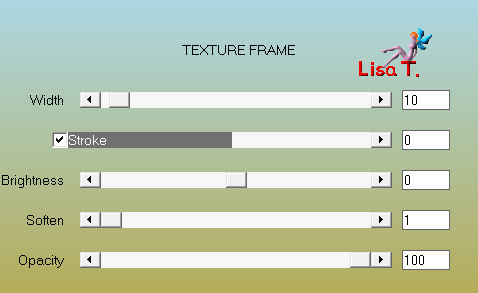 selections/invert
effects/3D effects/drop shadow/ 0 / 0 / 60 / 10 / black
selections/select all
selections/modify/contract/2 pixels
selections/invert/activate the flood fill tool/match mode : none
zoom in if necessary, and fill the selection with color 1
selections/select none
Step 15
selections/select all
image/add borders/30 pixels color 1
selections/invert
activate the image set aside on step 14
edit/copy - back to your work - edit/paste into selection
adjust/blur/radial blur/ 100 / 50 / 0 / 0 / 50



layers/duplicate - image/mirror
Step 16
your layers palette looks like this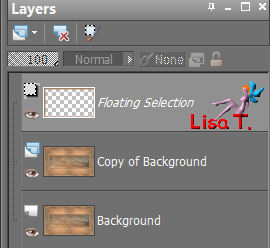 and « floating selection » is the active layer
right click on it -> defloat
opacy of the layer on 50%
layers/merge/merge down
effects/edge effects/enhance more
layers/new raster layer
activate « déco 1 tutoriel 46 »
edit/copy - back to your work - edit/paste into selection
blend mode : dodge (or other)
effects/edge effects/enhance
selections/select none
Step 17
activate the tube of the character
resize if necessary. Sweety resized her tube to 80%
image/mirror, and move it where you like
effects/3D effects/drop shadow/ 0 / 0 / 60 / 10 / black
on this tube, Sweety selected a feather and the butterfly with the freehand selection tool
and she used these selections as new tube to create the complete decoration
activate « déco 2 tutoriel 46 »
edit/copy - back to your work - edit/paste as new layer
and if necessary : layers/arrange/bring to top
move it as shown on the final result


Step 18
selections/select all
selections/modify/contract/30 pixels
layers/new raster
effects/
layer/3D effects/cutout/ 0 / 0 / 100 / 25 / black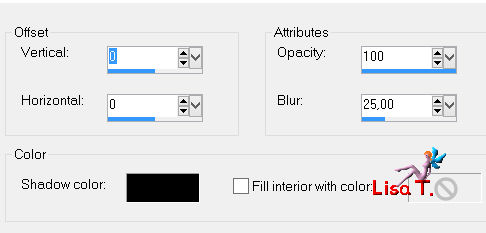 translator's note : at this point, I activated the tube of the character, selections/invert, and hit the delete key of the keyboard, to get rid of the part of the dress I wanted to erase. Then selections/invert again,& I went back to the top layer
selections/select none
image/add borders/2 pixels/color 2
image/add borders/2 pixels/color 1
Step 19
selections/select all
image/add borders/10 pixels color 2
selections/invert
effects/plugins/AAA Frames/Texture Frame/same settings as before as in step 14/ 10 / 0 / 0 / 1 / 100
effects/plugins/Graphic Plus/Cross Shadow/same settings as in step 14
selections/invert
layers/new raster layer
effects/3D effects/cutout/same settings as before
selections/select none
Final Step
apply your signature
layers/merge/merge all (flatten)
image/resize/width 950 pixels
adjust/sharpness/unsharp mask


file/save as… type jpeg



your tag is finished
Thank you to have realized it



To write to Sweety



don't hesitate to send her your creation, she will be really very glad to see it
and to expose it in the gallery



My tag with my tubes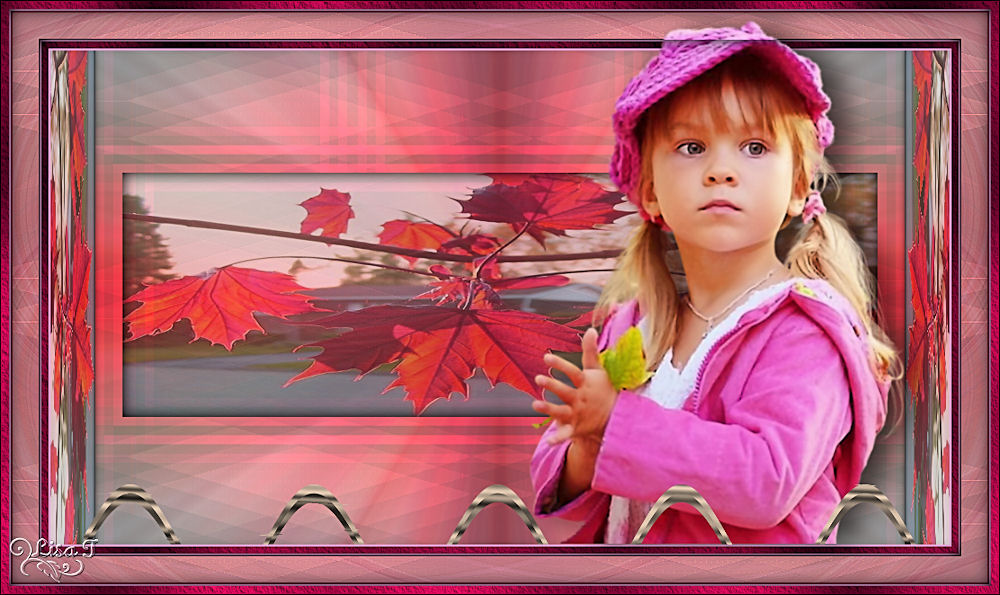 Back to the board of Sweety's tutorials