Osmosis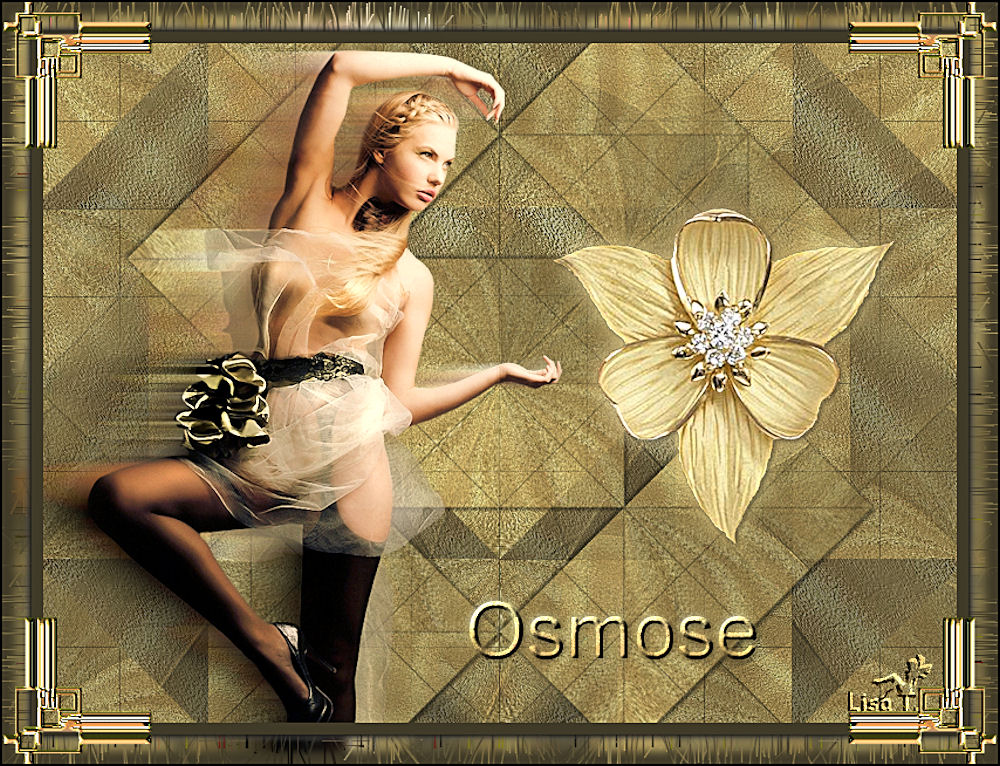 Original tutorial can be found here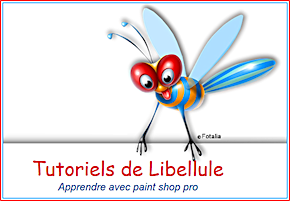 I am member of TWInc
this tutorial is protected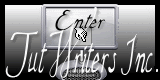 This tutorial was created using PSPX2
but it can be realized with other versions

General conditions
This tutorial is an original and personal design of Libellule.
any resemblance with another one would be pure coincidence.
You can share your creations, create signatures for your friends or for groups
but you are not allowed to use this tutorial in your site, or claim it as being yours
You must indicate the copyrights of the artists.
Thank you to respect the rules.

If you are interested by translating this tutorial in another language
thank you to ask Libellule.
a link towards her site will be asked

Material
1 tube by Narah
tubes by Libellule
click

on me !!!
Plugins
Flaming Pear Flexify 2 / Nick Software Color Effex Pro
Implementation
install the plugins if necessary
copy the texture in the folder "texture" of "My PSP Files"
copy the mask in the folder "mask" of "My PSP Files" or open with PSP and minimize it

Use the paint brush to follow the steps
left click to grab it


Realization
Step 1
open a new transparent layer, 800 * 600 pixels
fill with color #403a28
layers/new raster layer
in the materials palette, find the texture "belor" and fill the layer with this texture
Step 2
layers/new mask layer/from image
find "Narah_mask_0233"


layers/merge/merge group
Step 3
layers/duplicate - image/mirror
layers/merge/merge down
in the layers palette, set the opacity on 75% (or other according to your taste)
effects/user defined filter/Emboss 3
layers/merge/merge visible
Step 4
layers/duplicate
effects/plugins/Flaming Pear Flexify 2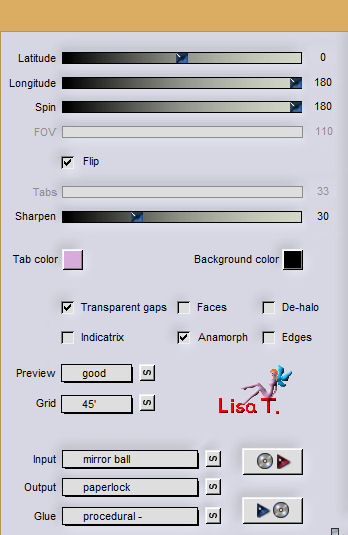 Step 5
activate the Free hand selection tool, and select the 4 small bumps in the corners
press the delete key of your keyboard and select none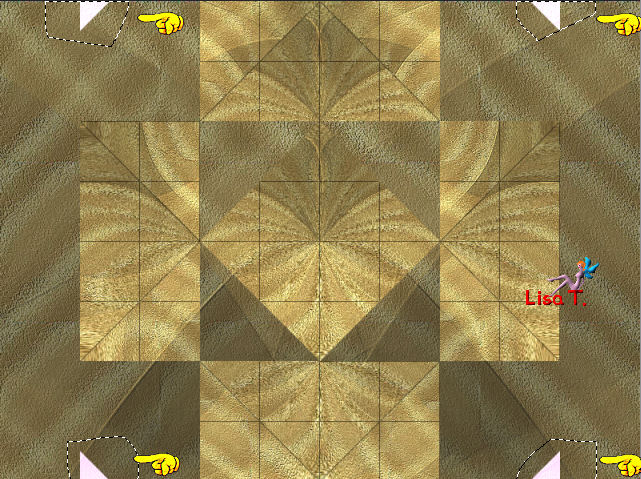 in the layers palette, set the opacity on 60%
layers/duplicate
activate the layer below
effects/image effects/seamless tiling/default settings
in the layers palette, activate the top layer
image/free rotate/45°/right



effects/3D effects/drop shadow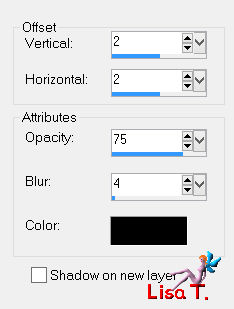 again, drop shadow/ -2 / -2 / 75 / 4 / black
Step 6
activate the tube "libellulegraphisme_femme3"
image/resize/65% (or other if you use another tube)
edit/copy - back to your work - edit/paste as new layer
move it to the left (see final result)
effects/plugins/Nik Color Efex Pro/Brilliance Warmth/ 60 - 75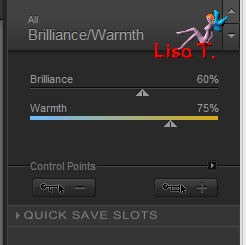 Step 7
layers/duplicate
in the layers palette activate the layer below
effects/distortion effects/wind/from right/100%
in the layers palette, activate the top layer
Step 8
layers/new raster layer/fill with color #403a28 (or other of your choice)
selections/select all
selections/modify/contract/10 pixels
press the delete key of your keyboard
selections/select none
Step 9
activate the tube "fleur31"
edit/copy - back to your work - edit/paste as new layer
image/resize/uncheck "resize all layers"/65%/move it to the right
layers/duplicate
in the layers palette, activate the layer below
adjust/blur/gaussian blur/10
layers/merge/merge all (flatten)
adjust/sharpness/sharpen
edit/COPY
The Frame
Step 10
image/add borders/check "symmetric"/25 pixels/white
select this border with the magic wand tool
layers/promote selection to layer
edit/paste into selection
effects/texture/fur


selections/invert
effects/3D effects/drop shadow/ 2 / 2 / 100 / 10 / black
and again drop shadow/ -2 / -2 / 100 / 10 / black

Step 11
selections/select none
acitvate the tube "coins"
edit/copy - back to your work - edit/paste as new layer
acitvate the tube "osmose_texte"
edit/copy - back to your work - edit/paste as new layer
move it as shown on the final result
layers/duplicate
in the layers palette, activate the layer below
adjust/blur/gaussian blur/3
Step 12
image/add borders/2 pixels/black
apply your signature
file/save as… type jpeg

If you create a tag with this tutorial, don't hesitate to send it toLibellule
She will be very glad to see it and present it in her galery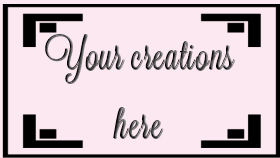 If you want to be informed about Libellule's new tutorials ans work
join her newsletter



Back to the board of Libellule's tutorials