Chantal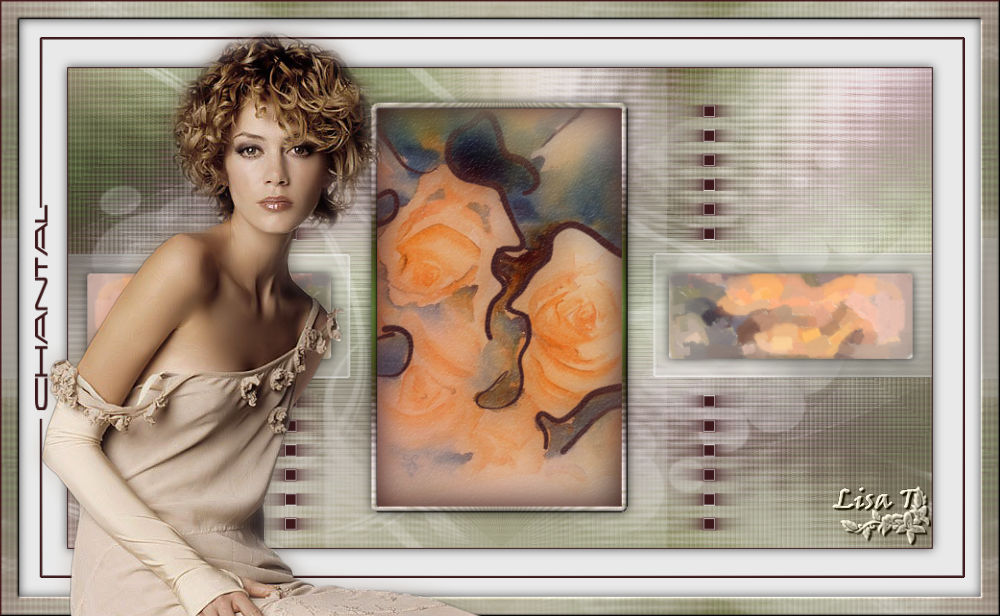 Original tutorial can be found here


This tutorial was created by Libellule with PSPX7
I use PSPX9
but it can be realized with other versions



General conditions of use
This tutorial is an original and personal design of Libellule.
any resemblance with another one would be pure coincidence.
You can share your creations, create signatures for your friends or for groups
but you are not allowed to use this tutorial in your site, or claim it as yours
You must indicate the artists' copyrights
Thank you to respect the rules.



If you are interested by translating this tutorial in another language
thank you to ask Libellule.
a link towards her site will be asked



It is strictly forbidden to use the material provided for your tutorials
and to share it in groups or forums
Libellule has received the authorizations to use the tubes she provides
see here




Preparation
install plugins and presets if necessary
copy the masks into the folder "mask" of Corel Folder or open with PSP and minimize it (best method)
open the tubes and duplicate them. Work with copies, close original images



Colors
color 1 --> foreground color --> FG --> #eacacd
color 2 --> background color --> BG --> #3c181a
color 3 -> #e9e9e9
color 4 -> #51702c



don't hesitate to change colors, blend modes and opacities to match your tubes



Filters
Medhi, Harry's Filters, Mirror rave, Simple, Alien Skin Snap Art, Graphic plus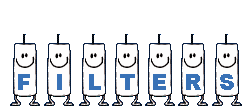 Material




use this Pencil to follow the steps
hold down left click to grab it and move it
…………………………………



Realization
1
into materials palette, set colors 1 & 2 as FG and BG colors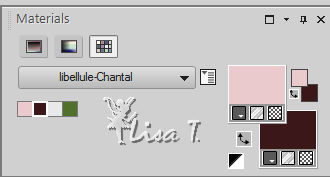 2
open alpha layer
3
layers -> duplicate
(be careful, color 3 is not White but a very light grey)
4
effets -> plugins -> Medhi, Wavy Lab 1.1, Radial (colors 1 / 2 / 3 / 4)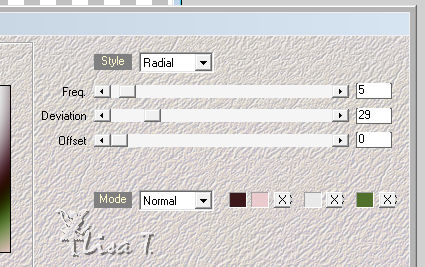 5
ajust -> blur -> radial blur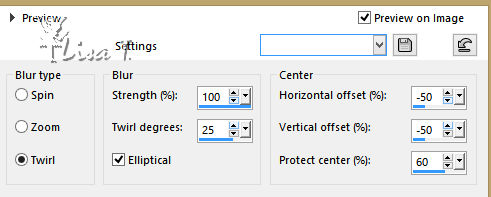 6
adjust -> blur -> gaussian blur / 35
7
effects -> plugins -> Harry's Filters, Warp, Wonderland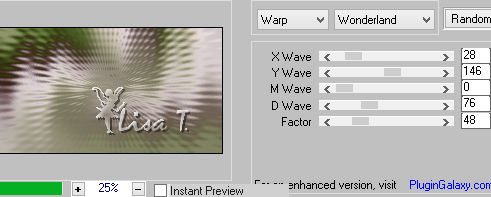 8
effects -> edge effects -> enhance more
9
layers -> duplicate
10
effects -> plugins -> Mirror rave / Quadrant Flip / default settings
11
effects -> plugins -> Simple / Top Button Wrap / default settings
12
blend mode of the layer : Hard Light - opacity : 45%
13
layers -> new raster layer
14
activate flood fill tool / color 3 / opacity 80%


15
flood fill layer
16
open « Narah_mask_0642.jpg »
17
back to your work
18
layers -> new mask layer -> from image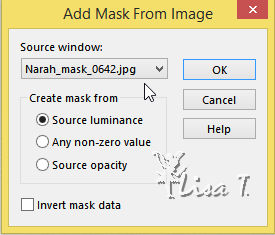 19
layer s-> merge -> merge group
20
adjust -> sharpness -> sharpen
21
highlight background layer
22
selections -> load-save selection -> from alpha channel -> selection 1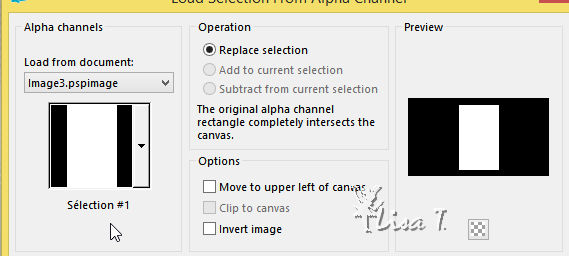 23
selections -> promote selection to layer
24
layer s-> arrange -> bring to top
keep selection active
25
adjust-> blur -> gaussian blur / 10
26
selections -> modify -> select selection borders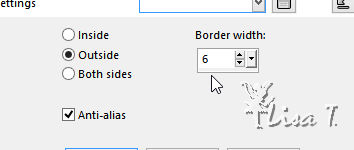 27
highlight « copy of Raster 1 » (second from bottom)
28
selections -> promote selection to layer
29
layers-> arrange -> bring to top
30
effects -> 3D effects -> inner bevel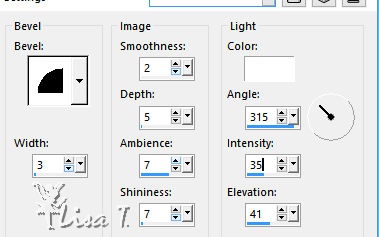 31
selections -> select none
32
open the misted image « fleur libellulegraphisme_wash_of_roses.png »
33
erase the matermark
34
(working the misted image) image -> rotate right
(your misted image must be higher than large)
35
edit -> copy
36
back to your work
37
edit -> paste as new layer
38
image -> resize -> uncheck « resize all layers » -> 65%
39
selections -> load-save selection -> from alpha channel -> selection 1
be careful, invert selection by checking « invert image »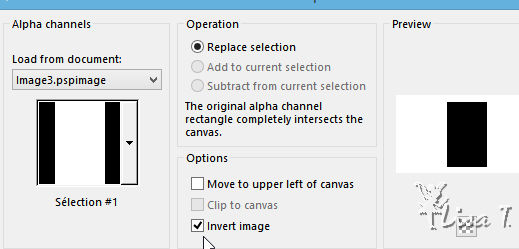 40
edit -> cut (or Delete key of your keyboard)
41
selections -> load-save selection -> from alpha channel -> selection 1
uncheck « invert image »

42
effects -> plugins -> , Alien Skin Snap Art / Stylise -> apply the preset provided « libellule_chantal »
if you change the colors, use the dark one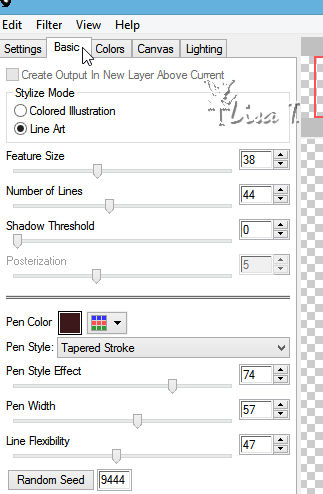 43
layers -> new raster layer
44
effects -> 3D effects -> cutout / color 2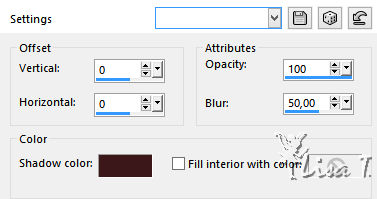 your layers palette looks like this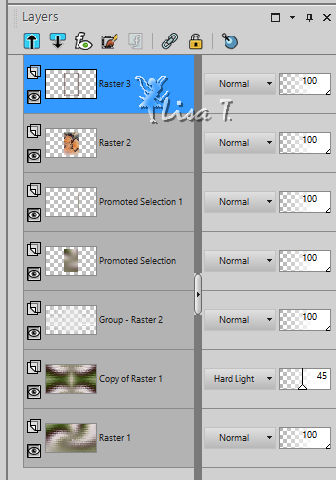 45
highlight background layer
46
selections -> select all
47
image -> crop to selection
48
highlight top layer
49
layer s-> merge -> merge down 3 times
50
edit -> copy
51
edit -> paste as new image - minimize to tray for a later use
52
back to your work
53
effects -> 3D effects -> drop shadow / black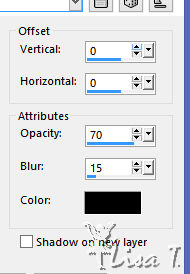 54
highlight « Group-Raster 2 » (mask's layer)
55
selections -> load-save selection -> from alpha channel -> selection 2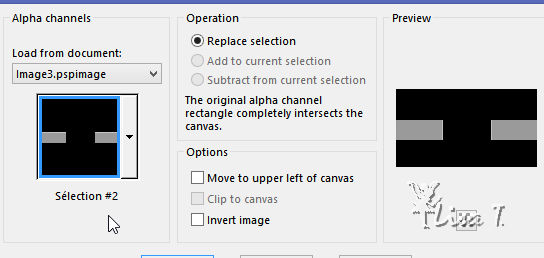 56
effects -> plugins -> Graphic plus, / Cross shadows

57
selections -> select none
58
selections -> load-save selection -> from alpha channel -> selection 3

59
highlight the image set aside in step 51
60
image -> rotate right
61
edit -> copy
62
back to your work
63
layers -> new raster layer
64
edit -> paste into selection
65
effects -> plugins -> Alien Skin Snap Art / Oil Paint and apply the preset provided « libellule_chantal_oil_paint »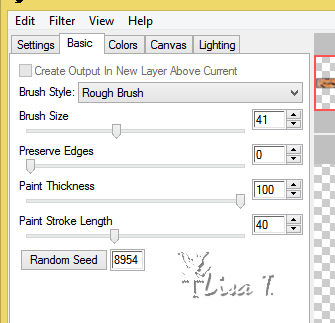 66
selections -> select none
67
effects -> 3D effects -> drop shadow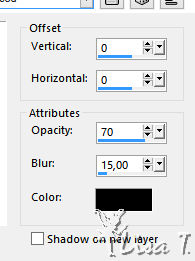 68
layers -> duplicate
69
image -> mirror -> mirror horizontal
70
layers -> merge -> merge down
71
layers -> new raster layer
72
flood fill layer with color 3 (don't forget to reset opacity to 100%)
73
open mask « masque.jpg »
74
back to your work
75
layers -> new mask layer -> from image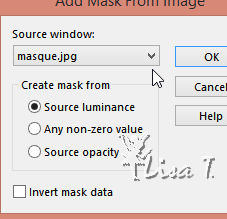 76
layers -> merge -> merge group
77
blend mode of the layer : Hard Light - opacity : 50%
78
layers -> arrange -> move down twice
79
effects -> image effects -> seamless tiling -> stutter diagonal
80
highlight top layer
81
open «d ecor1_chantal_libellule.png »
82
edit -> copy
83
back to your work
84
edit -> paste as new layer
85
effects -> image effecgs -> offset -> H : 0 / V : -10 / check « custom » and « transparent »
86
image -> add borders -> 1 pixel color 2
87
edit -> copy
88
image -> add borders -> 50 pixels color 3
selections -> select all
89
image -> add borders -> 20 pixels (any color)
90
selections -> invert
91
edit -> paste into selection
92
effects -> plugins -> Simple / 4 Way Average / default settings
93
effects -> 3D effects -> inner bevel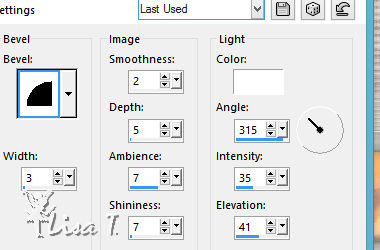 94
effects -> 3D effects -> drop shadow

95
selections -> select all
96
selections -> modify -> contract / 70 pixels
97
effects -> 3D effects -> drop shadow as before
98
selections -> select none
99
open the tube « decor2_chantal_libellule.png »
100
edit -> copy
101
back to your work
102
edit -> paste as new layer
don't move it
103
open the tube « Aguichante_Cibibijoux.pspimage »
104
edit -> copy
105
back to your work
106
edit -> paste as new layer
107
move to the left, be careful to place the image at the knee's level
108
layer s-> duplicate
109
adjust -> blur -> gaussian blur / 10
110
layers -> arrange -> move down
111
blend mode of the layer : Multiply - opacity : 50%
112
apply your watermark - layers -> merge all (flatten
save as... type .jpeg
your tag is finished



to write to Libellule




If you create a tag with this tutorial, don't hesitate to send it to Libellule
She will be very glad to see it and present it in her galery
at the end of the tutorial on her site
If you want to be informed about Libellule's new tutorials and work
subscribe to her newsletter




My tag with my tubes



Back to the boards of Libellule's tutorials
board 1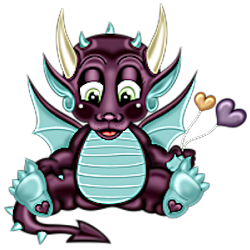 board 2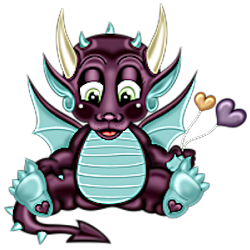 board 3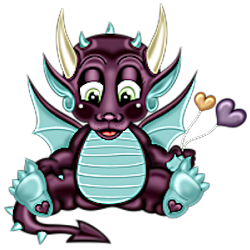 board 4