Owl ! Tell me everything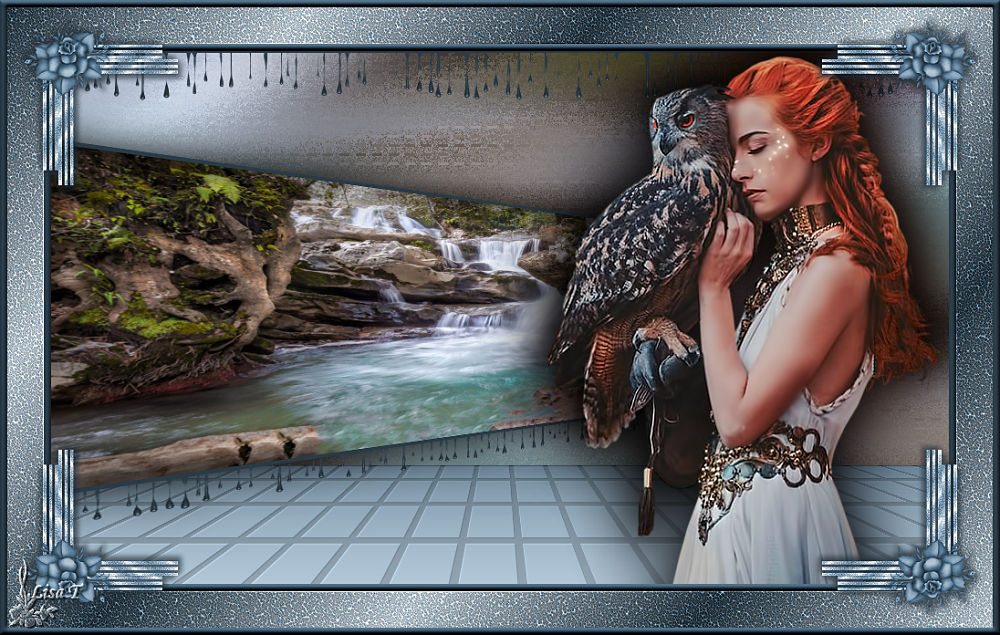 You will find the original tutorial here



This tutorial is a personal creation.
Any resemblance with another one would be only pure coincidence.
It is stricly forbidden to modify tubes, to change their name or take off the matermarks,
To present them on your sites or blog,
To share them in groups,
to make a bank of images, or to use them on lucrative purposes.



Thank you to respect Animabelle's work and the tubers work.
Don't hesitate to warn me if you have any trouble with this translation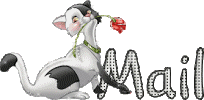 Material
1 iimage - 1 tube and 1 decoration tube




Filters (plugins) used
Alien Skin Eye Candy 5: Nature
Alien Skin Eye Candy 5: Impact
Krusty's FX vol. III 1,0
MuRa's Meister
FM Tile Tools
thank you Renée Graphisme for sharing your filters' page




use the pencil to you follow the steps
hold down left click of your mouse to grab it and move it



Important
Open all images with PSP, duplicate them and close the originals.
Never work on original images, in order to preserve them.
Animabelle works with PSPX9, I work with PSPX9 too
but you can follow the steps with another version of PSP



Colors
color 1 -> FG color -> #2a3b47
color 2 -> BG color -> #bac8d2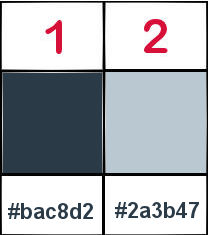 Don't hesitate to change colors and blend modes of the layers,
matching your tubes and images.



realization
1
don't forget to save your work often
thank you to Linette for her tutorial for the function "Mirror and Flip" (french tutorial)



2
open a new transparent imagev1000 x 600 pixels
flood fill with color 1
image -> resize -> uncheck « resize all layers » -> 80%
selections -> select all
selections -> float
selections -> modify -> contract -> 6 pixels
effects -> plugins -> Alien Skin Eye Candy 5: Nature - Drip
Setting "Large, Drip Drop"


tab « drip «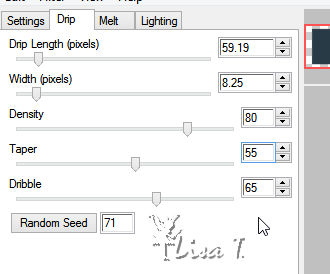 3
copy / paste landscape image into selection
selections -> select none
effect s-> geometric effects -> perspective horizontal -> distortion : 60 - check « transparent »
effects -> image effects -> offset -> - 300 / 0 ( check « custom » and « transparent »)
4
layers -> new raster layer
layers -> arrange -> move down
selections -> select all
copy / paste landscape image into selection
adjust -> sharpness -> sharpen (if necessary)
selections -> select none
effects -> image effects -> seamless tiling -> default settings
5
adjust -> blur -> radial blur



effects -> texture effects -> mosaic antique


6
highlight top layer
effects -> plugins -> Alien Skin Eye Candy 5: Impact - Perspective Shadow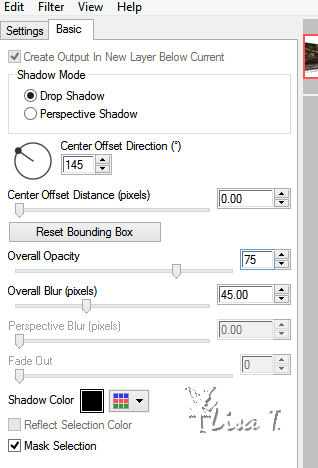 7
layers -> new raster layer
flood fill with the following gradient
color 1 ->FG color - color 2 -> BG color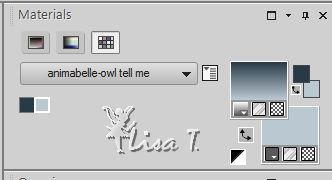 effects -> plugins -> Krusty's FX vol. III 1,0 / Grid Mover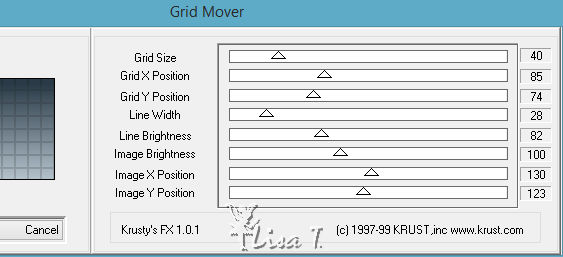 8
effects -> plugins -> MuRa's Meister / Perspective Tiling


layers -> arrange -> move down
effects -> plugins -> FM Tile Tools - Saturation Emboss / default settings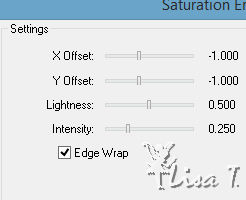 9
highlight top layer
copy / paste tube « 153_Femme_Page6_Animabelle » as new layer
erase the watermark
image -> mirror -> mirror horizontal
love it bottom right (see final result)
effects -> plugins -> Alien Skin Eye Candy 5: Impact - Perspective Shadow (same settings as before)
layers -> duplicate
highlight bottom layer
adjust -> blur -> gaussian blur / 35
blend mode of the layer : « Multiply »
10
highlight top layer
layer s-> new raster layer
activate Selection tool -> custom selection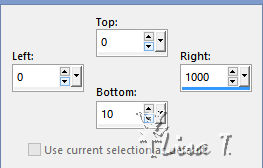 with the following settings


flood fill selection with color 1
effects-> plugins -> Alien Skin Eye Candy 5: Nature - Drip as before
selections -> select none
layers -> arrange -> move down TWICE
the layer is now under character's layer
layer s-> merge -> merge all (flatten)
11
layers -> new raster layer
selections -> select all
selections -> modify -> contract / 8 pixels
selections -> invert
flood fill selection with color 1
effects -> 3D effects -> inner bevel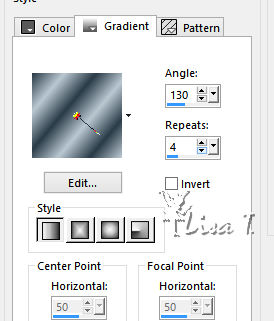 12
selections -> select all
image -> add borders -> check « symmetric » -> 40 pixels color 2
selections -> invert
flood fill selection with the following gradient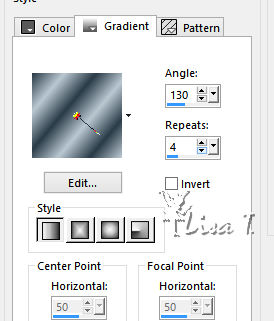 effects -> plugins -> Alien Skin Eye Candy 5: Textures - Texture Noise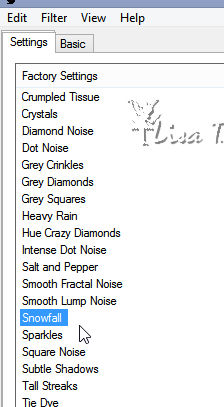 effects -> edge effects -> enhance
13
selections -> select all
image -> add borders -> check « symmetric » -> 8 pixels color 1
selections -> invert
effects -> 3D effects -> inner bevel same settings as before
selections -> select none
14
copy / paste « decocorners4a-sandi » as new layer
image -> resize -> 60%
adjust -> hue and saturation -> H : 146 / S : 66 (modify these settings matching your own colors)
adjust -> sharpness -> sharpen
effects -> 3D effects -> drop shadow -> 4 / 4 / 80 / 8 / color #222d36 *** -4 /- 4 / 80 / 8 / color #222d36
15
move this decoration on top left corner
effects -> plugins -> Simple - Top Left Mirror
using a font of your choice, write the text you like, and drop a nice shadow
layer s-> new raster layer -> apply your watermark
layers -> merge -> merge all (flatten)
resize if necessary - file -> save as... type .jpeg or .png



Don't hesitate to write to Animabelle if you have any trouble with her tutorial
To be informed about her new tutorials, join her NewsLetter



If you create a tag (using other tubes than those provided) with this tutorial
and wish it to be shown, send it to Animabelle !
It will be a real pleasure for her to add it to the gallery at the end of the tutorial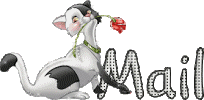 My tag with my tubes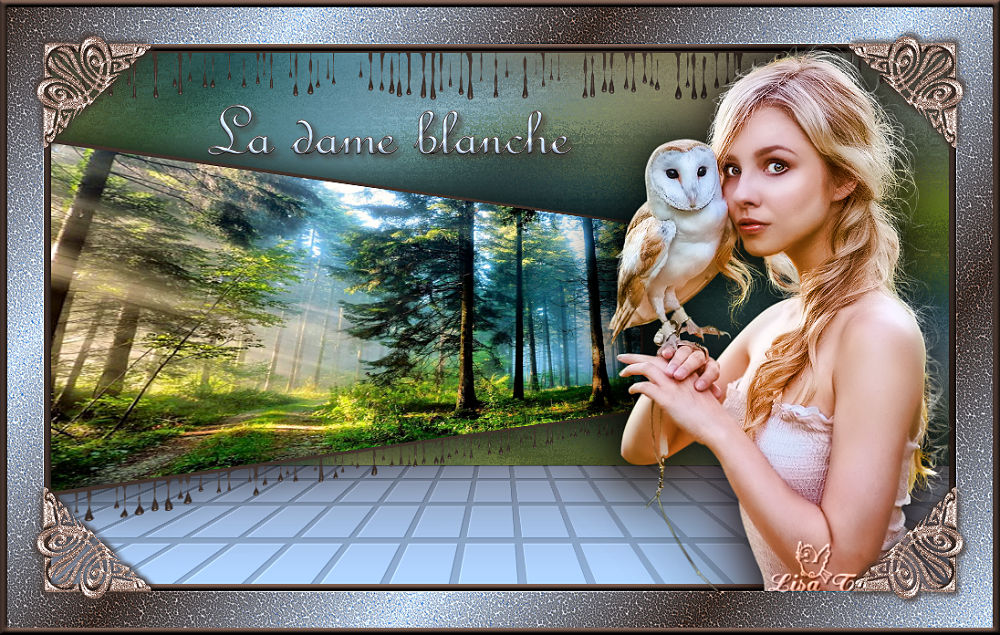 back to the boards of Animabelle'stutorials
board 1

board 2